By Rebekah Ward, Beatriz Muylaert, Matthew Albasi and Giannina Segnini. With reporting from: Asier Andrés, Mariel Fitzpatrick, Rute Pina, Andrés Bermúdez, Flávio Ferreira, Romina Mella,  Mercedes Agüero R, Nathan Jaccard and Lucas Silva.
This yearlong investigation, led by journalistic outlets from ten countries, found that – under the protection of laws that assure their religious freedom – some churches and their leaders in the Americas abuse the trust of their faithful, committing crimes such as money laundering and fraud.
"I'm tired of drugs, of therapies, and everything they've done to me," said a short, dark-skinned woman while leaning and holding two crutches in her left hand. 'Pastor Jorge' crouched at the edge of a stage as he held a microphone to her face, and then brought it to his own. "But today Christ came with his powerful hand, with a breath he released the crutches. Give glory to God! Take your crutches, raise from your bed and walk," his voice boomed through the hall.
The video documenting the healing ceremony, posted in YouTube in August 2012, shows how the next parishioner followed, then the next, each describing how they had healed after the pastor prayed. One man gestured at his left arm as he took the mic. "I had a very intense pain here. When the pastor began to pray, I felt an immense heat and my arm began to shake," he said, pumping his fist to applause.
The 'Pastor Jorge' who evoked such spirited responses from parishioners is Jorge Mercedes Cedeño. He had his own ministry in the east of the Dominican Republic, which he named Rugido del León (Roar of the Lion). The Roar of the Lion was also active in Colombia, and the Dominican pastor was a guest preacher in that country on several occasions, according to news articles published at the time . He was received by another preacher in Colombia, who claimed to be an Anglican bishop, Orlando Arce Ortiz. Both belonged to the nonprofit Organización de Paz Colombiana (Colombian Peace Organization).
The two pastors were brought into custody by Colombian police in May 2015, on suspicion of using the churches and the NGO to launder money. The Colombian Attorney General's Office later accused 'Pastor Jorge' of having "used his role as a religious leader to acquire goods abroad in exchange for large sums of money that were sent to his country as supposed offerings of parishioners." Arce Ortiz was accused of handling logistics, paperwork and political connections in the laundering operations.
Both plead guilty for laundering money and managing the finances of Dairo Antonio Úsuga, known as "Otoniel", head of what was then known as The Urabeños. This armed group, now known by the Colombia government as the Gulf Clan (Clan del Golfo), is considered one of the most dangerous criminal organizations in the country today, with its 1600-some members responsible for multiple kidnappings and murders of innocent civilians, according to the police.
These men created a religion and deceived parishioners, who honestly believed in their pastors. Lax or non-existent rules protecting religions allowed this international network to get away with this strategy for a number of years.
'Roar of the Lion' is just one of numerous cases in the Americas that reflect how neighborhood churches and some large religious congregations have served as shelters to hide money of illicit origin and hoard fortunes, using parishioners donations as a front. These are havens of money and faith.
In a yearlong cross-border investigation, Columbia Journalism Investigations (CJI), Centro Latinoamericano de Investigación Periodística (CLIP), OCCRP, and nine media partners across the region found other cases – some with convictions, and others still under investigation – that suggest an intersection between illegal financial activities and churches or religious figures.
The journalistic alliance consolidated a database of recent legal cases that connected both money laundering and related crimes – such as illegal drug trafficking – with religious groups of any creed or denomination in the Americas. The resulting database was a product of systematic searches in specialized online sites and public records, as well as interviews by the collaborating partners with judicial authorities in nine countries. This was the starting point of the investigation.
The criminal phenomenon reflected in the database is by no means representative of all churches and religious organizations in the continent. Many religious leaders serve well their  communities, however, the analysis of cases confirmed that several congregations are abusing their followers' trust and using religion-based institutions to commit and hide crimes.
"Over the years, religious institutions have been repeatedly used to launder money," said Mark Califano, a former assistant U.S. attorney and chief legal officer at Nardello & Co, a global investigative firm. "And their special and protected place in most countries and societies has allowed that to happen."
Another expert in this topic, Warren Cole Smith, CEO of an independent evangelical nonprofit called Ministry Watch, agrees. He explained that churches share vulnerabilities with similar cash-based industries. "A lot of these organizations also collect money internationally. And collection of cash, especially in other countries, makes it even more complicated,» he said.
Existing laws and practices in the Americas aim to give special protection to religious freedoms and prevent possible state meddling. For this reason, they limit the capacity of governments to investigate suspected wrongdoing by churches. This situation proves particularly favorable to those who abuse these lax norms to commit financial crimes.
Oversight of religious organizations in countries such as Guatemala, the United States, Peru, and Brazil is minimal, according to the findings of this collaborative investigation that reviewed legislation in these and other American countries. These countries grant churches both tax and disclosure exemptions. The hands-off approach of state authorities means religious bodies have more freedom to operate their finances than most other non-profit entities.
"It's this untouchability aspect that we have unintentionally crafted in the U.S. through several different mechanisms," said Marci A. Hamilton, a religious scholar at the University of Pennsylvania and a critic on extreme religious liberty.
"The reason religious groups are so convenient for money laundering, parking proceeds, is that for federal tax files you don't have to specify where your money came from and what you do with it," said Hamilton. "There's this black box quality to their public space."
Emilio Guerberoff, prosecutor for Argentina's Federal Economic Criminal Court, told investigative partner Infobae: «There may be a clash of interests between freedom of religious worship and the prevention of money laundering. By receiving anonymous donations through tithes, whose origin may not be traceable, churches could become a perfect money laundering machine without the money appearing to have a "criminal" origin, since it supposedly comes from followers."
Energy fraud in Utah
In the rare instances where prominent church leaders have been convicted of money laundering, the heads of their religious organizations – and, indeed, the churches themselves – are rarely brought under the same level of scrutiny.
In Utah, the highest leaders of a fundamentalist Mormon offshoot have emerged from a court battle relatively unscathed after one of the biggest frauds against the government in US history. The recent trial, heard by a federal criminal court in Salt Lake City, found that money was laundered through church accounts as part of a half-billion-dollar fraud scheme, according to reporting by Columbia Journalism Investigations (CJI), a partner the investigation Havens of money and faith.
The IRS incentivizes renewable fuel manufacturing in the US by offering tax incentives for those who produce it domestically. The Utah-based scheme was to feign production of this renewable fuel, though the Kingstons were in fact buying and selling the same renewable fuel through a domestic and international ring of companies. Once this happened, Jacob's company, Washakie Renewable Energy (WRE), would file false tax documents showing they qualify to receive payments in the form of U.S. Treasury checks for "manufacturing" the fuel.
The Order, also known as the Davis County Cooperative Society (DCCS), was founded in 1935 and is now led by Paul Kingston. Its church, the Latter Day Church of Christ – not to be confused with the main branch of the Mormon church, The Church of Jesus Christ of Latter-day Saints – is a tight-knit religious community. Its estimated 2,000 to 6,000 members live in the area around Salt Lake City. The Order is known for being one of the few Mormon offshoots to still practice polygamy.
In 2019, two of its high-ranking members, brothers Jacob and Isaiah Kingston, pled guilty to defrauding the US federal government of $511 million by falsely claiming renewable energy credits. They were convicted in April 2020.
Members of The Order who were implicated had their assets seized by the state, but still had a reduced sentence in exchange for turning state's evidence against their co-conspirator outside the church, Lev Dermen. He is an Armenian-American organized crime veteran with ties to top Turkish and Belizean government officials and crooked United States law enforcement officers.
Part of the proceeds from the energy fraud were laundered through Jacob's church and business entities and across the world through accounts related to the many connections of Dermen, in countries like Turkey, the US, Mexico and Belize.
As their story unfolded in federal court, former members of the group shared stories about other frauds. The religious sect has been accused of stealing proceeds from additional federal programs, including Free Application for Federal Student Aid (FAFSA) and the Adult Care Food Program (CACFA).
In the past, Order members have been convicted of welfare fraud and also of incest. Former members interviewed by Columbia Journalism Investigations (CJI), a partner in this journalistic collaboration, have linked these crimes to The Order's doctrine of Bleeding the Beast, in which defrauding outsiders, including the U.S. government, is encouraged. Kent Johnson, a spokesperson for the Davis County Cooperative Society, strongly denies they have any such doctrine. "DCCS has a long history of just the opposite (..) members often find themselves under greater scrutiny, being subject to audits and investigations at a rate nine times higher than the average population", said Johnson, citing research by the church.
The two Kingston brothers convicted in the most recent case pleaded guilty to a charge that describes a money laundering conspiracy which used the church and other Order-related entities. It was not proven during the trial whether the DCCS – as an organization – approved of the fraudulent activities.
But when CJI asked about the church's role in the fraud, Kent Johnson said: "to my knowledge, any money paid to DCCS member owned businesses was for legitimate services rendered or to repay money loaned to Mr. (Jacob) Kingston or WRE related entities."
While court documents already lay bare the illegitimate source of some Order funds, prosecutors plan to investigate further. The U.S. Attorney's office in Salt Lake City believes their next steps during the investigation will "involve tracing and following the proceeds to and through these Order related entity bank accounts," according to Public Information Officer Melodie Rydalch.
As of now, the church still enjoys constitutional protections from the same federal government it has defrauded, just as any registered religious group with official church status.
The Kingston brothers used church bank accounts to launder fraud money during the energy credit scheme, and both are serving time. The group's ultimate leader – Paul Kingston – and the church itself have not been legally implicated. The Internal Revenue Service (IRS) still retains the church's tax-exempt status. Asked about this by CJI, the IRS said federal law prevents the institution from commenting on taxpayers and organizations. With its current status, the Latter Day Church of Christ can continue to certify to donors that it is an IRS-registered tax-exempt organization which – as a church – can receive donations without making financial disclosures to the government. (See God's Kingdom of Fraud)
The saintly defense
The evidence that led to the conviction of the Dominican and Colombian pastors, the case described earlier, was meticulously documented by the Colombian national prosecutor for organized crime since March 2013.
The evidence laid out in court sentencing documents shows how the pair used the ruse of churchgoer donations on multiple occasions to explain why Jorge Mercedes Cedeño was carrying large amounts of cash during trips to Antioquia, Colombia. In one instance, police in El Poblado, a wealthy neighborhood in Medellin, Colombia's second largest city, took the Dominican 'Pastor Jorge' into custody when they found he was carrying 300 million Colombian pesos in cash (around US $110,000, at the time). But he was released after Arce Ortiz called his connections in the police department and backed his fellow pastor's story that the money was from donations.
When it came time for sentencing, the defense lawyers of both men pointed to their religious credentials, pleading for leniency. The lawyer of Arce Ortiz asked that his "quality as Bishop of the Anglican Church" be taken into account in his favor. But Arce Ortiz was never a bishop for the mainstream Anglican church – a fact that neither the court, nor the press accounted for at the time.
Arce Ortiz, alias "El Obispo", was at one point presented as an active leader in the church of Victor Manuel Cruz Blanco. This denomination – Provincia Iglesia Anglicana del Caribe y La Nueva Granada – is a offshoot of the Anglican church which traces its credentials back to a small parish in Indiana. The denomination publically announced they excommunicated Arce Ortiz for heresy and false repentance in February of 2012 – a year before Colombian authorities even started investigating him.
The other affiliation for which Arce Ortiz produced evidence for the court – a "card" issued by Iglesia Anglicana Misionera Mundial – traces back to a church which seems to have been created by Arce Ortiz himself.
Meanwhile, the lawyers of Jorge Amado Mercedes Cedeño, alias "Pastor Jorge", argued that the accused should be shown leniency as he was not "a man with a tendency to commit crime," drawing as evidence on the certified fact that he is "a missionary evangelist in his own country."
Investigators had ample evidence that both men openly used their roles as pastors preaching to congregants, evangelizing and running humanitarian missions. Still, Dominican officials made an effort to distance Jorge Mercedes Cedeño from the religious establishment.
«He may have had something very particular, individual, some imitation, but he is not part of any of the organized churches,» said Francisco Domínguez Brito, the Attorney General of the Dominican Republic at the time, in a 2015 press conference just after the pastor was sentenced in Colombia.
By legal and societal standards in most American countries, including the Dominican Republic, neither these affiliations, nor any formal certification are required for religious leaders, outside of the rules within specific denominations.
Narcos, politicians and pastors
This investigation found that along the coast in San Marcos, Guatemala,  a border region with Mexico where drug trafficking is a powerful force and one of the main drivers of the economy, the illicit trade has been closely linked to certain evangelical pastors.
There, evangelical drug traffickers finance churches, recruit pastors to their criminal structures, and sometimes even become pastors themselves.
Juan Alberto Ortiz López, known by his alias «Chamalé», dominated the drug trafficking market on Guatemala's Pacific Coast for two decades. His role as a religious patron is less famous. His nickname from local pastors, "Brother Juan", spoke to his frequent provisions of money and materials to help them construct new houses of worship.
He was especially generous with the Iglesias Torre Fuerte, a church network run by Pastor Noé Mazariegos which extended from San Marcos to the Mexican state of Chiapas. Mazariegos was known by his alias "El Apóstol," and according to the Guatemalan prosecutor's office, he was part of Chamalé's criminal enterprise and had been accused of ordering the murder of his brother-in-law and his companions. Chamalé and his mafia structure exported at least 144,000 tons of cocaine from Guatemala, according to the U.S. court that convicted him in 2014.
Pastor Mazariegos «became his right-hand man, his adviser for religious and business affairs», a local activist, who preferred to remain anonymous for security reasons, explained to the Guatemalan partner to this investigation: Nomada. This closeness to religion helped Chamalé build a route to power while still in Guatemala. According to reporting by Nomada, the drug trafficker often participated in Christian events during which he met with mayors, politicians and officials in the region. An adviser to a presidential campaign in the 2007 elections, who asked not to be identified, even said that his candidate attended a religious event in Tapachula, Mexico, on the invitation of Chamalé.
Chamalé leveraged his spiritual connections as far as the United States court where he stood trial. Religious men spoke up for him, pleading for his release on the basis of his role in their churches. Pastor Raúl Timoteo Méndez López was among those who testified that he had received significant help from the drug trafficker to support his congregation.
"I believe and I am convinced that he is a minister of God, that he is a man that God raised up to serve his people," said Méndez López at a hearing in July 2015.
Even after Ortiz López was found guilty, a pile of letters and testimonies arrived in time for the sentencing hearing, attesting to the godliness of the drug dealer and his crucial role in local religion.
Chamalé never led a church from the pulpit. But one of his key successors, Erick Súñiga – alias "El Pocho" – was a pastor, a politician and a drug trafficker, at once.
Súñiga was already a drug trafficker on the rise when he was evangelized by the Bethania church. With its support, he was elected mayor of Ayutla, a municipality of San Marcos, in 2008. Once mayor, he created his own church in 2012 called Restoration and Peace Ministries (Ministerios Restauración y Paz), where he preached. Six years later, his church received a visit from a foreign preacher. The man gave him a public prophecy: the mayor should stop preaching in his local church to pursue his political goals, blessed by God.  After that, the mayor stepped back from preaching regularly at his church, but according to sources on the ground interviewed by Nómada, partner in this investigation, the church remained central to his narrative and helped him to consolidate regional power.
When Súñiga gave himself up to the US authorities, he faced charges in a federal court in Texas for funneling cocaine into the country since at least 2008.
"Corrupt Guatemalan Mayor Indicted in Eastern District of Texas," reads the US Department of Justice press release from December 19, 2019. "Treasury Sanctions Guatemalan Mayor," wrote the U.S. Embassy in Guatemala. The Attorney General of Guatemala, María Consuelo Porras, even traveled to Plano, Texas in January, and described to a press huddle how investigations had shown that the man used his mayoral staff in his drug trafficking ring. Neither the indictment, nor the legal proceedings ever mentioned that Súñiga was a pastor, church leader and founder of a denomination.
Erick Súñiga died in April 2020 while he was in the custody of US authorities. Even though the cause of death has not been revealed, he was suffering from pancreatic cancer.  At the time of his death, Iglesia Restauración y Paz back in Ayutla still held services and several of Suñiga's preachers still lead them.
The entanglements of Guatemalan preachers with drug trafficking rings is not limited to the Pacific Coast. Jorge René García Noguera, known by his initials JR, gained prominence among a new, more discrete generation of drug traffickers. He ran his thriving fruit and dairy export businesses from the Zacapa province, about 150 kilometers from the capital city.
JR studied to be a pastor, published three books on Christianity, and went on to found his own multimedia production house for Christian content – EnÉl, or "WithinHim" in English – which he transformed into a ministry in 2017, through a public ceremony with several of the principal Guatemalan pastors. Using this new platform, he cultivated relationships with churches across the country and abroad, including one created by his own family.
But his tour as church leader didn't last long. At the end of that same year, a federal court in Florida petitioned for his extradition, and accused him of acting as an intermediary between Colombian and Mexican drug traffickers – facilitating the continent's flow of cocaine to the north. JR hid for a time, and EnÉl wound down its public appearances, until it seemed to disappear completely. A year later he turned himself over to US authorities. He is now serving 20 years in prison, and further cooperation could reduce this sentence.
During his trial, Christian relatives and Guatemalan pastors begged the court for clemency and swore that he was a good man who had changed after finding God in 2013. However, in accepting his charges, JR acknowledged that he had trafficked cocaine until 2017.
Responding to the possibility that Guatemalan narco-traffickers are using their churches directly to launder money, former Minister of the Interior Francisco Rivas said "it is probably happening because of the way these churches are run, and because of some information we've received… but we have not looked into it as a criminal phenomenon."
It is striking that only one religious leader has been convicted of laundering money through a church in Guatemala. Saturnino Molina, a Franciscan friar from El Salvador, was caught trying to travel to Israel with more than $16,000 in cash. Despite his money laundering conviction, the friar always maintained that the undeclared money was the product of rosary sales and the donations of his parishioners.
The rules
In many places, starting a church is as easy as saying you are one. To avoid impinging on religious freedoms, governments often take a backseat on the detailed definition of what it means to be a church. In some countries, such as the United States, the legal term "church" refers to congregations of all faiths.
Some countries require that all churches register, such as Costa Rica, Argentina, Mexico and Colombia; others don't, like the U.S., Peru, Puerto Rico and Guatemala. Some adopt differing requirements depending on church size, like Brazil. In many Latin American countries, the Catholic Church is regulated under special codes, given its long history in this region.
Nevertheless, in a number of countries in order to become a legal entity – if their leaders so choose – churches do need to register with the authorities. In Colombia, they register with the Direction of Religious Affairs of the Interior Ministry; in the US, with the Internal Revenue Service; in Peru, with the Ministry of Justice and Human Rights . Registration is usually a seamless process, and after registering churches obtain a unique identification number and receive a certificate of tax-exemption.
In Argentina, the churches officially registered in the Registro Nacional de Cultos (National Registry of Worship) are exempt from paying taxes. In July 2019, the Federal Administration of Public Revenue (AFIP) simplified the process to obtain the certificate of exemption from income tax and established that they should no longer present annual balances or sworn statements, as this fiscal agency had previously required.
In the US, churches are automatically tax-exempt, even if they sidestep the process of registering with the central tax authority. But certification lets them confirm their exemption to donors. In general, even when registered, religious purpose is considered a fundamental right and churches have different, usually fewer, financial disclosure demands than other non-profits.
More recently, some countries, including Argentina, Uruguay and Guatemala, have put in place new requirements for churches in an effort to prevent or detect money laundering, as part of each country's anti-money laundering laws. These additional controls may include asking churches to identify benefactors who donated more than a certain sum, to know the origin of donated funds, and to report suspicious transactions to a government agency.
In spite of these new mechanisms, our investigation found that the implementation of monitoring strategies to ensure compliance with these new policies has been inconsistent. In Argentina, religious entities were not historically considered a «high risk» sector for the money laundering prevention efforts by the Financial Intelligence Unit (UIF). This implied that they were subject only to routine controls, along with other sectors, unless there were Suspicious Transaction Reports from the banking entities. From 2010 to 2020, there was only one administrative sanction placed on a religious institution by the government's anti-money laundering body.
In February 2019, five years after Argentinian officials opened an investigation into the Universal Church of the Kingdom of God, the church and three members of its administration each received fines of 240,000 Argentinian pesos (about 6,200 dollars at the time) for failing to comply with regulations designed to prevent money laundering.
However, the current prevention mechanisms came under scrutiny after president Alberto Fernández took office in December 2019. The anti-laundering body (UIF) changed its tune under the new leadership of Carlos Cruz. "Churches are subject to proactive monitoring, and we are going to closely monitor them as one of the new criminal policy guidelines of this entity, since some congregations have been used to launder money," said UIF director Cruz, who was consulted for this investigation. "This is not only an issue for Argentina's UIF, but also for other countries mindful of our actions."
In Guatemala, the Special Verification Intendancy (IVE) regulates non-profit entities in the country which receive or send funds abroad. However, as of the end of 2019 only 156 of these non-profits were reported to the IVE, even though there are as many as 3.200 legally registered churches alone. Between 2014 and 2019, the IVE received a total of nine suspicious transaction reports from organizations it oversees, none of which led to an accusation of money laundering by state prosecutors, according to the IVE.
Some churches operate informally, so the exact number of religious entities across the Americas is unknown. Countries often do not keep official directories of religious entities, making a continent-wise estimate even harder to obtain. But the number of churches registered with revenue agencies is ever-increasing in some countries.
In the US, there were 1,327,714 religious, charitable, and similar organizations registered with the tax authority (the IRS) in 2018, according to the latest available figure. In 2001, there were only 865,000 such organizations registered. Detailed information on the breakdown of these organizations is not made accessible.  In response to a public records request by Columbia Journalism Investigations (CJI), the IRS said they do not maintain readily available data of registered entities with church status.
In Brazil, the number of churches has more than doubled in 15 years – there were 25,022 registered churches in 2018, according to data obtained by Agência Pública, a partner in this collaboration. In Argentina, according to the response that partner Infobae received to a public information request, there are currently 6,330 religious entities registered in its National Religious Registry (Registro Nacional de Cultos), of which a third – 2,096 – were registered in the past 10 years. The number of new registrations in 2019 doubled compared to 2010.
The number of churches is skewed by the abuse of the registration status: nonprofits, businesses and other organizations falsely registering as churches. For instance, in 2012, Brazilian police detained a criminal group that used a church account to move $400 million reais (approx. USD $100 million) of dirty money from crimes against the financial system. According to the federal police press release, their church, Igreja Ação & Distribuição (Church of Action & Distribution), only existed on paper. There was never a building – the listed address housed a gym – or followers. The press release states that "the religious entity was created to obtain tax immunity, which members of the group felt would reduce the probability of supervision."
Even among churches that seem to have followers and a belief system, the types of operations labeled as "religious" are not so well-defined. The flexibility of this category has allowed for some eccentric arguments in American courts of law. One woman maintained in court that her ring of sex workers should be protected from legal intervention on the basis that it was founded on religious belief.
In 2016, a court in the United States found Phoenix Goddess Temple leader Tracy Elise guilty of pandering, operating or running a house of prostitution and money laundering. But though authorities claimed that her operation used religion as a facade, Elise held that her conviction interfered with her fundamental right to religious freedom, since "she was ultimately convicted of offenses arising from her asserted religious practices."
Her Goddess Temple in Phoenix is now defunct, but Elise's fight still rages on. She was released for time served, and continues to appeal the conviction. Phoenix Goddess Temple is one of few recent cases in which the United States has investigated a church.
According to Rob Boston, Senior Adviser for Americans United for Separation of Church and State, it remains more likely that government agencies will investigate unconventional churches. "Someone coming up with a fake church to cover their illegal activities is different from legitimate churches that are committing impropriety." Referring to sham operations, he said "those aren't gonna fly."
In rare instances, respected leaders of well-known religious organizations have been the subject of financial investigations by the state. But the length and complexity of these processes reveal the number of safeguards available to these leaders under the current regulations that protect the autonomy and freedoms of churches. (See Religious leaders suspected of unholy finances).
Governments know that there are religious organisations and churches abusing the legal protections afforded to them to commit serious crimes. The 60-plus judicial cases and official investigations that this collaboration found on a limited search for public records reveals this is indeed happening. It is unclear how widespread the abuse is – over 10 sources consulted for this story said there is very limited data on financial abuse by religious institutions, and a lot of criminal activity may well be going undetected.
So far, most governments have chosen not to make tougher laws to scrutinize religious organizations more deeply, likely because they do not want to risk hard-earned protections that help religious organisations to freely flourish. They are even less willing to take that chance at a time when religious organisations are so entrenched in political power across the Americas.
The paradox is that by protecting the rights of churches and their leaders to the extent where abuse goes unpunished, many true believers are left defenceless from swindlers who are using their followers' righteous faith to undermine the very principles they stand for.
One scene summarizes this contradiction: the astonishment and tears of Dominican followers of the Rugido del León ministry, when they learned that their pastor, who they so trusted, was actually a front man for a dangerous criminal org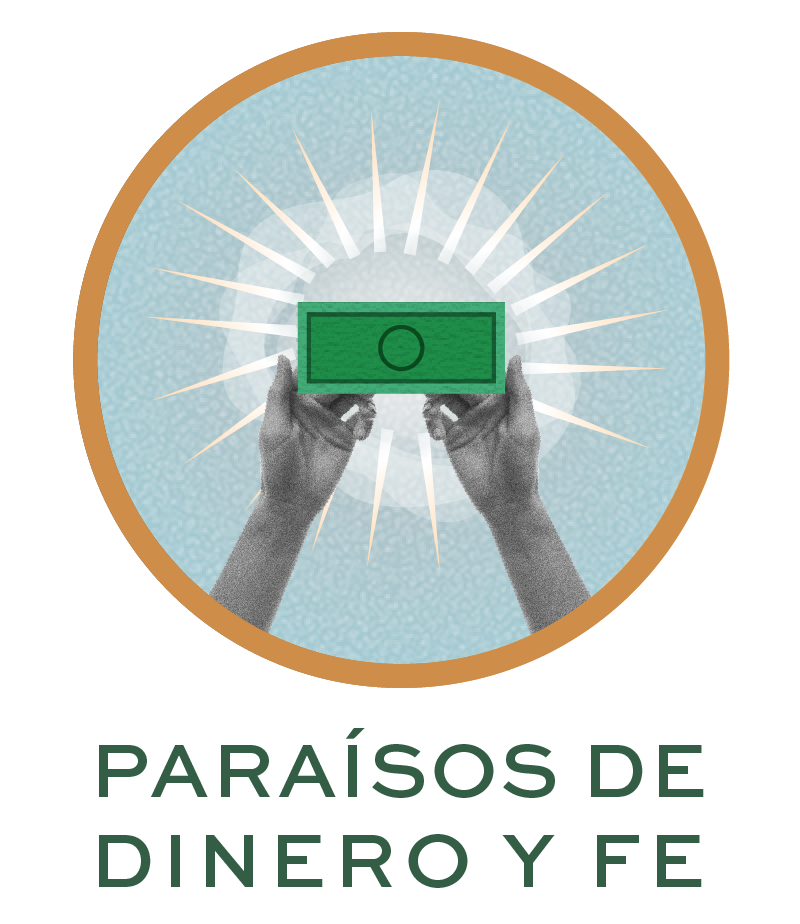 Paraísos de dinero y fe is a collaborative investigation by Columbia Journalism Investigation, Centro Latinoamericano de Investigación Periodística (CLIP), Mexicanos Contra la Corrupción y la Impunidad (México), Nómada (Guatemala), Canal 13 Noticias (Costa Rica), IDL-Reporteros (Perú), Infobae (Argentina), Agencia Publica (Brasil), Folha Sao Pablo (Brasil), La Diaria (Uruguay), El Tiempo (Colombia) and OCCRP (Europe), with the support of the Seattle International Foundation.