Beatriz Muylaert, Rebekah Ward, Matthew Albasi and Giannina Segnini. With reporting from: Mariel Fitz Patrick, Raúl Olmos, Rute Pina, Flávio Ferreira, Martha Soto, Mercedes Agüero R, María Teresa Ronderos Andrés Bermúdez Liévano, Asier Andrés, Nathan Jaccard and Emiliana Garcia.

A cross-border journalistic alliance found that in Brazil, Argentina, Chile, Trinidad & Tobago, Mexico and Colombia, authorities have opened inquiries into whether or not religious leaders were involved in money laundering. Some of these investigations have been open for years, and have yet to draw any conclusions.
…………………………..
When internationally-famous religious leaders or their churches – some of them well established in the Americas – are accused of financial crimes such as money laundering or fraud, they can face years of scrutiny but are seldom found guilty or innocent. This is one of the findings of the cross-border journalistic investigation Havens of Money and Faith, by Columbia Journalism Investigations (CJI), the Latin American Center for Investigative Reporting (CLIP) and nine other media outlets, which reviewed 60-plus recent investigations and judicial cases involving churches or their leadership.
This investigation found cases in Brazil, Argentina, Mexico, Chile and Colombia in which the authorities – anti money laundering units or prosecutors – started financial investigations on suspicious money flows, tax avoidance and luxury real estate registered by religious leaders or their families. Some of these investigations have been open for years without formalizing charges and, at least in one case, the inicial acusation expired before any decision was made.
"It is challenging to investigate pastors and churches for possible financial crimes, explained Marcus Owens, former director of the Exempt Organizations Division of the Internal Revenue Service (IRS), which oversees churches in the United States.
"It's not like investigating money laundering by itself," Owens said. "[When you investigate churches], you're suggesting inappropriate behavior by a group that many parts of society look up to. If it is well founded or not is not the question."
Brazil's main evangelical denomination, Assembleia de Deus, and its leader Samuel Cassio Ferreira have been under investigation since 2015 for possible laundering of a bribe paid to a politician convicted in the famous Lava Jato case. The line of inquiry arose when an informant for Operation Lava Jato, the investigation into the massive corruption scheme of state-run oil company Petrobras, pointed prosecutors to the possibility that Assembleia de Deus and Cassio Ferreira were laundering proceeds from the scheme. Investigators have not yet brought any charges, but if the case lands in court the church itself could not be held responsible under Brazilian law, since only an individual can be held accountable.
The preliminary inquiry tries to establish whether Cassio Ferreira has laundered money via Assembleia de Deus bank accounts for Eduardo Cunha, former president of the lower house of the Brazilian Congress. The former congressman was sentenced in 2017 to 15 years in prison for corruption, money laundering and embezzlement.
Two deposits totaling $ 250,000 reais, equivalent to about $ 50,000 US dollars at the time, were made directly into the church's bank account and, according to the informant in the case against Cunha, this sum was a portion of the bribe owed to Cunha for facilitating contracts with Petrobras. Samuel Cassio Ferreira's lawyer, Antônio Carlos de Almeida Castro, said his client has not yet had the opportunity to respond to the claim. He added that the deposits were donations, in line with the main function of the church account, and were duly accounted for.
This journalistic investigation contacted Church representatives to understand their position on the case. As of its publication, they had not responded. The federal court investigation is currently sealed to the public.
Argentinian authorities opened an investigation into the local branch of the other principal evangelical denomination of Brazil: Universal Church of the Kingdom of God, created by Brazilian pastor and media mogul Edir Macedo. Investigators traced numerous deposits of large sums of cash into church accounts. The country's Financial Intelligence Unit (UIF), responsible for preventing money laundering, flagged these transfers as potential laundering because it could not corroborate their legality or origin. The UIF determined that the cash was later moved into other banking operations and used to purchase cars, real estate and an airplane.
The Universal Church of the Kingdom of God in Argentina said that the money came from the tithes of its followers, most of whom were not identified. For this reason, the UIF determined that «it wasn't able to verify their economic backgrounds or corroborate the veracity of their donations.» Of the donors analyzed by the UIF, «the majority showed a lack of patrimonial profile that would allow a surplus of income for a subsequent donation,» according to a judicial source who spoke to Infobae, partner of this journalistic investigation.
In a separate criminal case in Brazil, both Edir Macedo and another leader of the Universal Church of the Kingdom of God named Bishop João Batista were investigated for money laundering and other crimes for which they were eventually indicted in a federal criminal court.
However, according to reporting by Agencia Pública and Folha de Sao Paulo, two partners on this cross-border investigation, the judge of the Second Federal Criminal Court of Sao Paulo had approached the Attorney General's Office four months before the case's term limit expired to verify when the latest trial start date could be. The Prosecutor's Office responded that there were only four months left before the crimes hit their statute of limitations. But the Court still failed to initiate the trial in time, and the case was shelved. In September 2019, after eight years of investigation, the case could no longer be prosecuted since the legal deadline to start the trial against Macedo and Batista had come and gone. Both leaders have repeatedly denied the allegations.
In Mexico, Naasón Merarí Joaquín García, leader of the Light of the World Church (La Luz del Mundo) which has congregations in 58 countries, is now being investigated for money laundering and tax evasion, according to the partner of this cross-border journalistic investigation Mexicanos Contra la Corrupción y la Impunidad (MCCI). The Mexican Financial Intelligence Unit (UIF) tracked suspicious transactions from entities related to the church and its leader to banks in the United States, Nicaragua, Bolivia, Poland and Hong Kong. In early 2020, the unit froze $20 million in assets possessed by the religious bigwig and five of his companies and organizations.
The financial investigation is also establishing whether this church or its leader diverted alms and donations from parishioners to acquire 51 properties between 2004 and 2018.
Legal representatives of La Luz del Mundo called the accusations unfounded. In trial, they succeeded in arguing that some of the bank accounts should be unfrozen. Silem García, the spokesperson and legal representative of La Luz del Mundo, told this journalistic collective that "La Luz del Mundo is the only Church in which the resources are administered by the faithful themselves, so there is no way that the money could be diverted. Our apostle does not have access to the accounts, he receives a salary as a pastor. The FIU accuses him of evasion, but he has complied with his obligations because he files his tax returns in the United States".
In early August, the UIF confirmed that the accounts of three organizations linked to the church were still frozen, and that it had already filed a formal accusation with the Attorney General's office for alleged money laundering.
Nassón Joaquín, known as «Apostle of Jesus Christ» by followers of his international church, has been in custody in the United States since June 2019, after he was indicted on 22 counts by Californian prosecutors. The charges include child pornography and the sexual abuse of minors. The Mexican Attorney General's Office (FGR) has an inquiry open into these same charges, and has already obtained testimonies from victims to broaden the scope of these accusations, an official familiar with the case said. The defense counsel has denounced what they have referred to as a conspiracy to discredit the pastor and his church.
Some of the female victims of abuse have also provided information to the American justice system about the many United States-based assets accumulated by their church and its leaders. MCCI identified a total of 35 properties in the name of Joaquín García and his relatives in the public records of six states in the country, with a combined commercial value of approximately $26 million dollars.
Victims of abuse have also made public allegations with regards to his suspicious financial operations. «Naasón and others recruit members of La Luz del Mundo to make regular trips to Guadalajara [the headquarters of the Church] with cash hidden on their persons and in their luggage» said Sochil Martin in her court testimony, in which she accused the church leader of abusing her since early adolescence. García, the legal representative of the church, said that the accusations of sexual abuse are «an insult» because «the Apostle and the Church have always been concerned with ensuring the rights of the most vulnerable, especially children and women.»
At the end of 2017, the Chilean Attorney General's Office opened an investigation into Methodist bishop Eduardo Durán Castro for alleged money laundering due to the rapid growth of his personal assets, which at the time included 12 properties and eight cars. The Internal Revenue Service (SII) also began to investigate the finances of Durán, leader of the  Evangelical Cathedral since 2003 and bishop of the First Pentecostal Methodist Church between 2011 and 2019, to establish the existence of possible tax crimes.
The Financial Analysis Unit (UAF) of the Treasury found that large sums of cash had been deposited to the religious leader's bank account between 2007 and 2018, including 1,738 million chilean pesos (around $2.6 million dollars at the time) between 2014 and 2018, according to a confidential document that is part of the Prosecutor's Office investigation and was cited by Chilean newspaper La Tercera. The publication also established, after reviewing the transactions from Durán's accounts, that among the 159 beneficiaries were his two children. One of them, congressman Eduardo Durán Salinas, appears to have received 269 million pesos (about 400 thousand dollars at the time), according to the same document.
This journalistic investigation wrote to congressman Durán Salinas and asked him if he had received money from his father, but did not receive an answer. We also contacted Bishop Durán Castro's lawyer, but he assured us that he no longer represents him, that he has no relationship with his former client, and that he does not know who took on his defense. Durán has told the media that he will not speak of the case until the investigation is closed. «By my calculations, I receive approximately 35 million pesos (around US$52,000 at the time) from tithes each month, ultimately leaving about 28 or 29 million per month (between US$42,000 and US$43,000) at my disposal,» explained Durán to the Prosecutor's Office in January 2019, adding that he helped his son Durán Salinas with 4.2 million pesos (about US$6,300) a month.
Additionally, a Chilean bank flagged several unusual movements of money to and from the United States in accounts related to the bishop during the months in which he was negotiating a merger between his congregation and the US International Pentecostal Holiness Church, as documented by the Chilean investigative outlet CIPER.
Bishop Durán, who was removed from his post at the Evangelical Cathedral in May 2019 and has been a political ally of president Sebastián Piñera, has not been formally accused by the Public Ministry. This means the case remains in its preliminary investigation stage.
In Trinidad and Tobago, last December 31, police confiscated 29 boxes of Trinidadian $100 bills (equivalent to about US $4.1 million) from Pastor Vinworth Dayal who preaches at the Third Exodus Assembly Church in Longdenville. Pastor Dayal hoped to exchange the old paper bills for new polymer ones on the eve of the deadline given by the Trinidadian Ministry of National Security for this type of trade. The ministry of National Security was withdrawing and retiring the older paper $100 bills from circulation in the weeks leading up to 2020, as a way to smoke out money laundering and counterfeiting.
Pastor Dayal maintained his innocence. In a letter to the central bank dated December 29, two days before the deposit, his lawyer argued that the boxes contained 19 years' worth of "voluntary offerings for his personal use and benefit from members of the congregation."
Top church leaders in the country expressed concern about the incident, according to reports from the Trinidad & Tobago Guardian. Seventh-Day Adventist Pastor Clive Dottin thought that such actions could lead to "an undermining of faith in religion," reflecting badly on churches that manage their finances well. And the Roman Catholic Church's Archbishop Charles Jason Gordon worried that the pastor would not have already been "using [the cash] for the ministry of the people and of God."
In Colombia, the Office of the Attorney General of the Nation has spent 14 years investigating María Luisa Piraquive and her Church of God Ministry of Jesus Christ International (IDMJI) – which has congregations in 46 countries – for suspicious financial transactions and related issues. Our partner El Tiempo sent a series of questions to the lawyers of the religious leader, who responded that they would only be able to answer in the next few days. This journalistic collaboration has decided, along with El Tiempo, to await the publication of this part of the investigation until the church and its leader send their version of events.
As this journalistic investigation has shown, many of these cases have never turned into formal indictments or gone before a judge. They are preliminary inquiries, sometimes extending for years and years with no conclusion, even in cases where the churches and their leaders are widely known in their countries and their followers number in the hundreds of thousands.
"Most megachurch pastors are celebrities; they are recognized everywhere they go. But their very celebrity status tends to insulate them," said Warren Cole Smith, CEO of an independent evangelical nonprofit called Ministry Watch, based in the United States. "The legal and financial structures of these churches also tend to stifle efforts of accountability."
According to Guatemalan money laundering prosecutor Sara Sandoval, even when investigations into possible money laundering through churches do occur, they rarely bear fruit. Money is very difficult to track, she said. There are requirements such as having to show a receipt with the donor's identity for each donation, but these are newly created and tax authorities do not enforce them. Since churches do not pay taxes, supervising them is not a priority for fiscal regulators.
«If a church receives a donation of $100,000 and enters it into their accounts and tells us that it was a donation, but they do not know from whom because the person did not put their name on the envelope, how do we track it?" Sandoval said to this collaboration.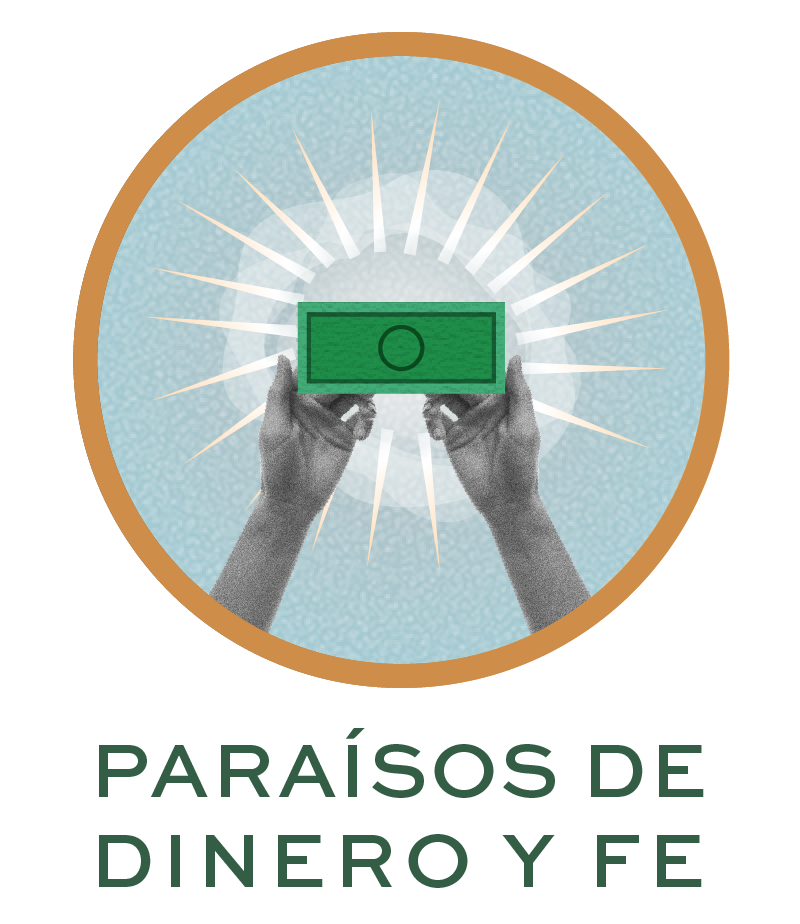 Paraísos de dinero y fe is a collaborative investigation by Columbia Journalism Investigation, Centro Latinoamericano de Investigación Periodística (CLIP), Mexicanos Contra la Corrupción y la Impunidad (México), Nómada (Guatemala), Canal 13 Noticias (Costa Rica), IDL-Reporteros (Perú), Infobae (Argentina), Agencia Publica (Brasil), Folha Sao Pablo (Brasil), La Diaria (Uruguay), El Tiempo (Colombia) and OCCRP (Europe), with the support of the Seattle International Foundation.